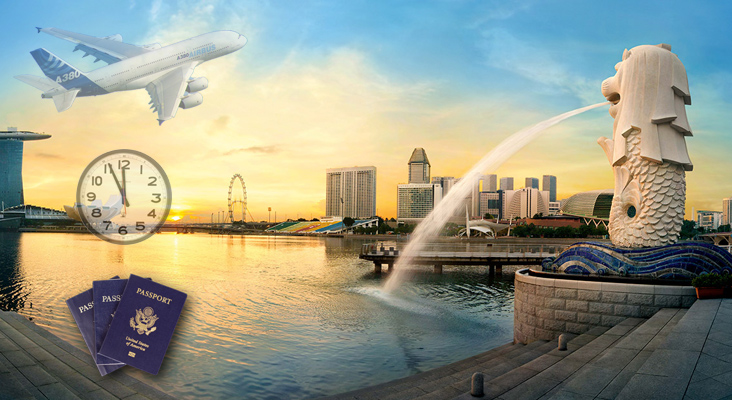 Singapore Visa For Indians
 Endri tours & travels are one of the leading agencies in India and offer the best solutions to the customers and offer a wide range of immigration and visa service. To apply for Singapore Visa for Indians, there is no other better place than Endri tours & travels
Asia's modern cosmopolitan city, Singapore is one of the top destinations for immigrants. Easy rules and regulations of the same country help the migrants to get tourist visas.
Singapore Tourist Visa for Indian Citizens
Every year more Indians have been visiting Singapore for short holidays. It is indeed the best place for fun vacation. Singapore tourist visa for Indian Citizens is applicable for those people who wish to visit Singapore for the purpose of tourism and peace travel. It is also meant to those visitors who want to visit Singapore to visit friends and relatives. To travel to this beautiful country, you must apply for Singapore Tourist Visa for Indian Citizens category that allows you to stay for a maximum of 30 days with two years validity. The Singapore tourist visa does not allow the visa holder to take away any kind of business while in Singapore.
You can either apply online for a visa or directly submit your application to one of the best agency around you. The application process for Singapore tourist visa for Indian citizens has been made easier over the years.
How to Apply for Singapore Visa
So, here is mentioned the complete process to apply for Singapore Visa for Indians:
The visa application form 14A must be completed by all applicants. It can be downloaded from the website http://www.ica.gov.sg
Supporting documents
Valid passport with at least six months validity on the date of entry into Singapore
Singapore visa application form duly filled and signed
2 recent passport-size photographs (35mm x 45mm)
Valid travel itinerary
Valid Singapore visa
Sufficient funds for the intended period of stay in Singapore
Visa processing fee of SGD 30
You must have a copy of the Letter of Introduction for Visa Application (Form V39A) that has been sponsored by a person in Singapore. The sponsored person must be a citizen or Permanent resident of Singapore and must be 21 years of age.
Note: If you hold an old passport, make sure to keep it along with your application.
Fill the Contact form below to apply for Singapore Visa
Processing Time
Your Singapore visa application for Indians too will be processed within 5 business days after you submit the application to the authorized visa agent. It does not include the submission date, public holidays and weekends…
You can check online the status of your application.
Things to Remember While Applying
Fill up your application carefully and accurately
Apply for a visitor visa a few weeks before your travel date
Bring original copies and photocopies of all necessary documents to the application center
Most Important and Mandatory Aspect is Do Not Present False Documents at Any Stage
It is slightly annoying to provide a lot of documentation. Sometimes we are not sure whether to submit a document or might be wondering about the type of document we must provide. For all these reasons, to accept the challenge, Endri tours & travels are mentally prepared to take you onboard as seamlessly as possible! Better late than never! We are committed towards our services to assist you in every step of Singapore visa for Indians.
ADDRESS
Singapore High Commission
E-6 Chandragupta Marg
Chanakyapuri
New Delhi-110021
Tel: +91-11-46000915, 46000800
Fax: +91-11-4601 6412, 46016413
Email: [email protected]
website: www.mfa.gov.sg/newdelhi
 BASIC REQUIREMENTS

Passports at least have a validity of six months and at least two blank pages.

1 Application Form fully completed and signed by the applicant.

2 Recent photographs (size of 35-45 mm, white background).(please see the head SPECIFIC REQUIREMENTS)
Covering letter on Company's letterhead.
Personal Bank Statement with healthy balance – 3 months, latest with Bank seal & signatures (photocopy shall also be accepted).

 

JURISDICTION

Passport issued from:-

Maharashtra, Goa, Gujarat, Madhya Pradesh, Chhattisgarh, Orissa and Diu and Daman – To be Applied in Mumbai.
Karnataka, Andhra Pradesh, Puducherry Union Territory, Tamil Nadu, Kerala To be Applied in Chennai.
Rest all India issued passport can apply in Delhi

.SPECIFIC REQUIREMENTS

The photograph should be (35 mm wide by 45 mm high without border and taken within the last 3 months taken full face without headgear unless the applicant habitually wears a headgear in accordance with his/her religious or racial custom but the headgear must not hide the applicant s features. The Photographs should be with 80% face coverage, white background with the matte or semi-matte finish.)

 SUBMISSION DAY  
 Monday to Friday
 COLLECTION DAY
 Monday to Friday
 TIME TAKEN 
2-3 working days
 VISA FORM